DAY IN THE LIFE - BECKY CAMERON
On Wednesday we had the wonderfully talented Becky Cameron take over the Ohh Deer Instagram! The illustrator behind the adorable book that is Paddington & The Christmas Visitor; Becky shows us what she gets up to on a daily basis!
Hello! I'm Becky and I'll be taking over the Ohh Deer Instagram feed for the day. I'm a freelance illustrator and as well as making cards for Ohh Deer, I also make picture books which is a pretty awesome job. I work from my home in Oxfordshire and contrary to the popular artist stereotype, I only work in my pyjamas on very rare occasions. I start my day around 8am, eating breakfast at my desk and checking emails and social media before starting on whatever I've planned for the day. I tend to work in organised chaos, believe it or not this is my desk when it's tidy…
My days vary massively depending on what part of a project I'm working on. I like to make lists of the things I need to do for the day and I plan my work schedule on an ever-evolving monthly chart stuck to my wall. ⠀
⠀
I decided not to tidy up too much for you guys so please excuse the pot of dirty ink-water and the unwashed paint palettes- bad habits of mine. I should probably go and wash those up now…
I LOVE picture books, they are a constant source of inspiration to me. I'm lucky enough to be friends with some very talented illustrators (Some of their books are in this picture along with a few of my all time favourite kid lit artists) ⠀
⠀
…If you look closely you'll also find the proof of my debut author illustrated book which is out next year :) *shameless self promotion*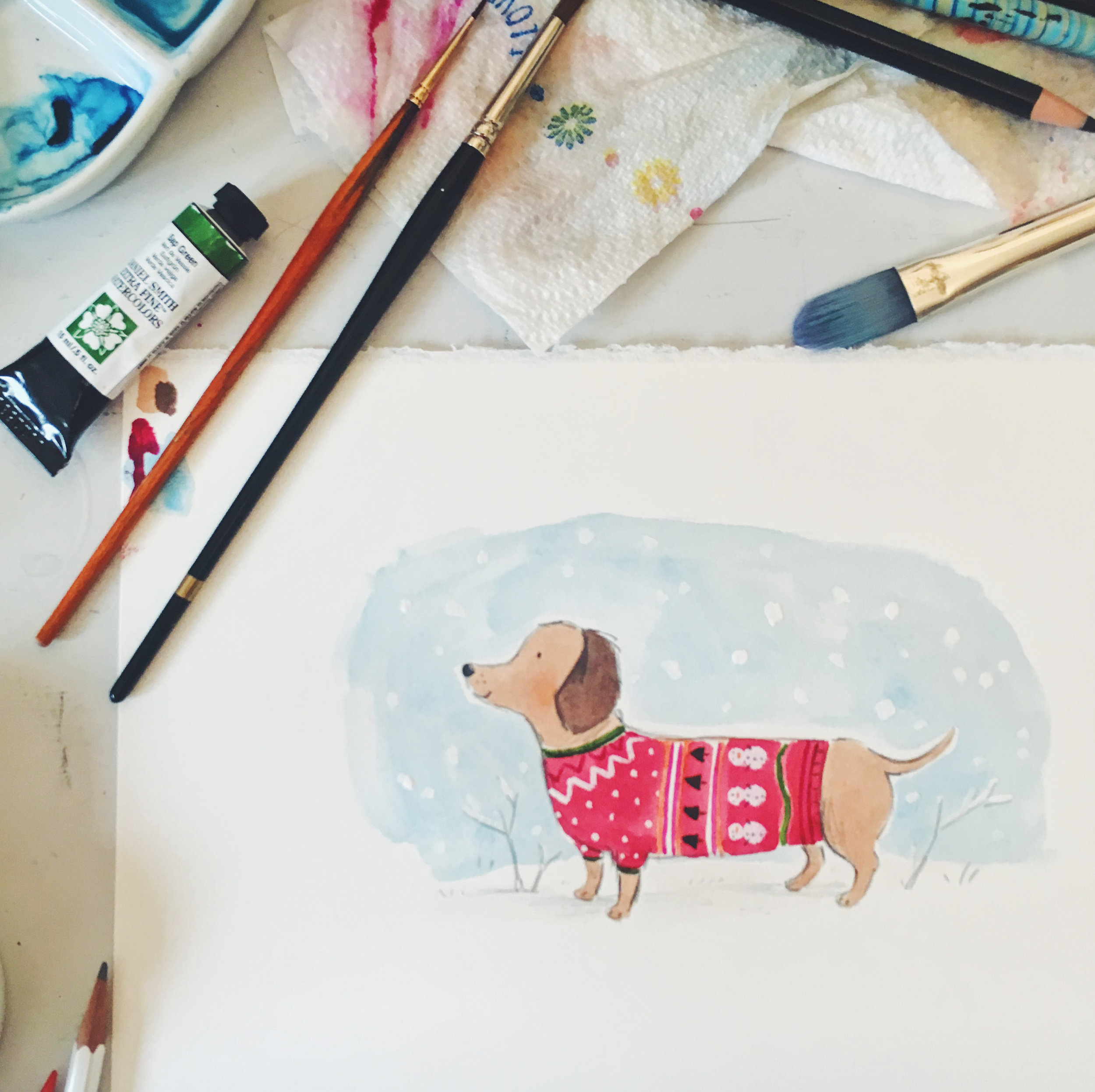 My working process and materials vary depending on the project, I'm not committed to one specific way of working - I love pencils, ink, watercolour, gouache, printed textures and collage. I sometimes work digitally too but I always draw away from the computer first. My picture book work looks very classic and traditional, other times I try to keep it fresh and more modern (like for my Ohh Deer card range).
I can't share too much from my current projects but this shows some of the roughs and thumbnails for a picture book.
It's not unusual for me to work into the evening. I actually quite like to work in my cosy home studio when it's dark outside. Kiki, my studio companion, lets me know when it's time for me to stop by getting in the way and acting like I haven't fed her for ages (don't worry, she's a very well-fed cat).

Well, that's it from me, I hope you enjoyed my Instagram takeover- thanks for having me Ohh Deer :)
Follow Becky on Instagram @doodleyboo and head over to Ohh Deer to make sure you don't miss the next artist takeover!